9th January, 2018
Received an update today regarding a project at Leeds Beckett University which we were involved in last year.  The F-COSTE project (Facilitating Communication on Sexual Topics in Education) brought together Young People, Teachers, Researchers and Practitioners to identify barriers and issues for Young People.  The aim is to produce  advice and practical resources to be used to support Young People in this area .  We were delighted to be part of the Advisory Board and continue to follow the progress of the project with interest.  A link to the development of the project can be found here.
12th December, 2017
Consultation session in a Primary school talking to teachers and support staff about pupils causing concern for a range of reasons.  Great to problem-solve together and help others to see alternative perspectives in order to try and find ways of supporting children in school.
8th December, 2017
Full day conference with 2nd year students on the Real World Psychology module of the undergraduate Psychology degree at Leeds Beckett University.  This was the culmination of a project they completed with us throughout the Autumn term where they had the opportunity to learn more about the application of Psychology in Education and the role of an Educational Psychologist.  Fantastic to work with the University and listen to the students reflect on their learning during the conference today.
19th September, 2017
Great to return to Wrigleys Solicitors today for the 2nd of our Breakfast Seminars focusing on Mental Wellbeing in schools.  Lisa Armstrong talked about some strategies and interventions to support Children and Young People and Julie Moxon gave an insight into her role as a Play Therapist and the role she has in supporting children in school.
7th September 2017
Meeting at a College today with a student, her Foster Carer and College staff to ensure the early stages of her transition from school were going smoothly and to discuss ongoing support needs.
11th July 2017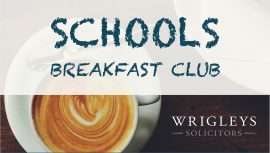 We were delighted to be asked to speak at a Schools and Academies Breakfast Seminar hosted by Wrigleys Solicitors in Leeds this morning.  Lisa Armstrong talked about Promoting Positive Well-Being in schools to a group of delegates from schools across Leeds, Wakefield and Bradford.  We had a fantastic response and will be working directly with some of those schools who attended to deliver further training to more of their staff in the coming year.  A huge 'Thank you' to Wrigleys for the invitation – we look forward to speaking at a further seminar there in the Autumn term.
5th July 2017
A transition meeting was arranged in order to ensure that effective communication had taken place between a High school and Primary school in anticipation of the transfer of a vulnerable pupil with ASD.  The Educational Psychologist was involved in helping the pupil and his parent communicate any concerns and anxieties and to help them and school staff identify strategies to be implemented to support him in September.
27th June 2017
A training session for staff at a Primary School today focused on the needs of children with Attachment difficulties and the implications of early childhood trauma on development and responses in school.  We considered how everyday practises in this setting might be adapted or modified to help staff more effectively meet the needs of all of their children.
8th June 2017
Staff at a primary school used a Consultation session to speak to an Educational Psychologist about any issues arising in their class, relating to individual pupils or wider teaching and learning concerns.  This provided an opportunity for the teacher and EP to consider alternative perspectives and generate a range of possible strategies to address the concern.  Working in this way enabled every member of staff to meet with the EP and draw on her skills and expertise in a pro-active and preventative way which is not always possible if the EP is only invited into school to assess those pupils with significant needs.